In the ever-evolving landscape of ad marketing, the battle against ad fraud is an ongoing challenge that keeps digital publishers on their toes. Ad fraud is a pervasive issue in the industry, costing businesses billions of dollars annually. One notorious form of ad fraud that has been causing headaches for digital publishers is cookie stuffing. This devious technique allows fraudsters to profit at the expense of honest advertisers and publishers.
Digital ad fraud accounts for $1 for every $3 spent on digital ads. Irrespective of your reputation in the programmatic space, any form of exposure to a fraudulent tactic can cost you and your business dearly. In this blog, we will explore the intricate workings of cookie stuffing, its detrimental impact on programmatic publishers, and how to safeguard your ad marketing efforts against this menace.
What is cookie stuffing?
Cookie stuffing is an affiliate fraud technique in the ad marketing space through which fraudsters try to obtain credit for sending leads and affiliates to marketers when in reality there is no such transaction happening. A malicious actor may drop cookies on a publisher's browser without the consent of a specific ad. When the user clicks such an ad, the fraudster's cookies may overwrite the publisher's cookies. As a result, the commission for any purchase made by the user will go to the fraudster.
Let's check how this process takes place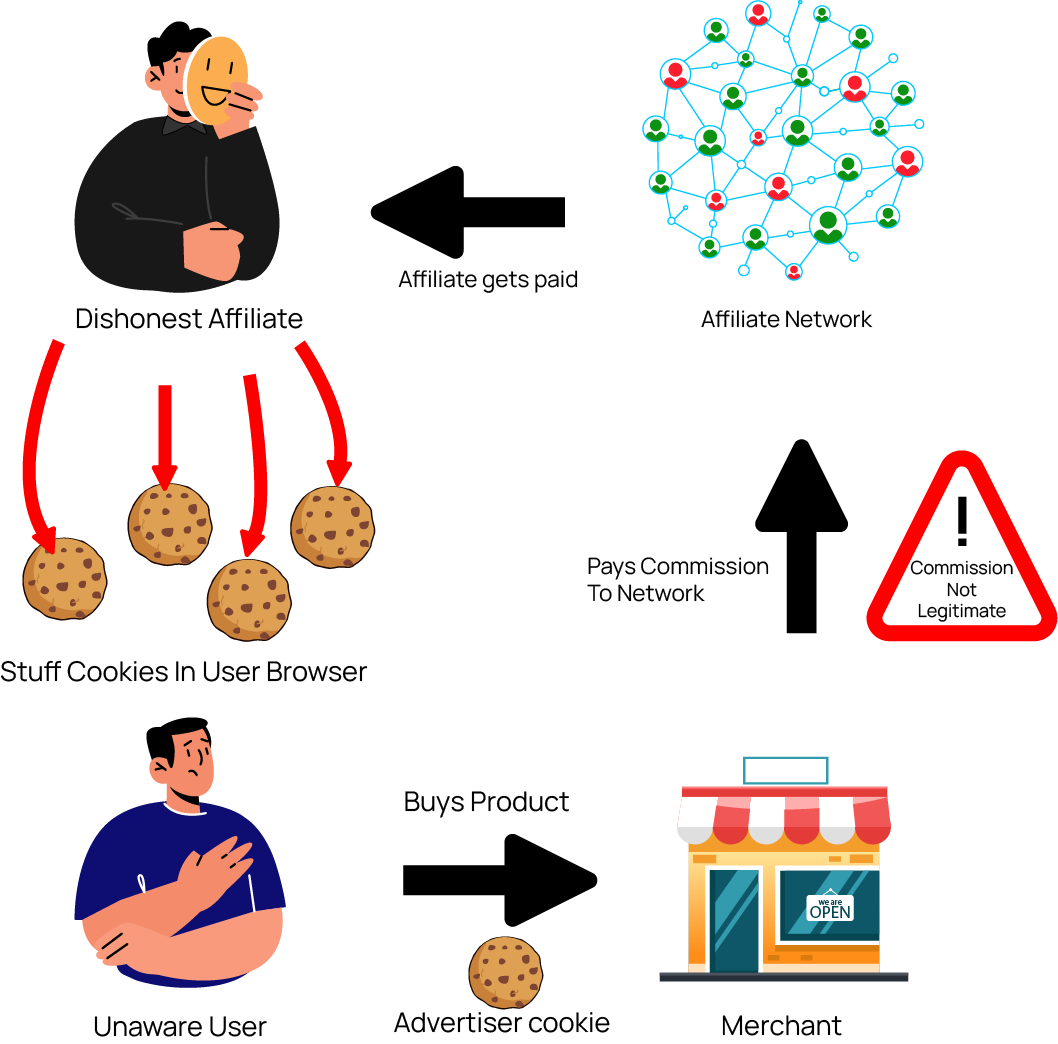 How does cookie stuffing impact publishers?
The ramifications of cookie stuffing are profound, particularly for programmatic publishers who are increasingly dependent on the efficiency and accuracy of their ad campaigns:
How can you avoid cookie stuffing?
As a digital publisher, protecting your ad marketing efforts from cookie stuffing is paramount. Here's how you can safeguard your website and reputation
The complex and surreptitious nature of this ad fraud technique can have far-reaching consequences, affecting reputation, finances, and user trust. However, with vigilance, the right tools, and a commitment to transparency and user consent, publishers can defend their ad marketing efforts against the menace of cookie stuffing.