DoubleClick for Publishers: The Go-To Monetization Tool of Publishers
Display advertisements involve a lot of crucial decisions to be taken from the publisher's point of view. The most important of all is the selection of ad servers. An ad server that minimizes barriers to effective reporting, ad delivery delays and greater flexibility is the bull's eye that every publisher aims at.
In terms of ad management, Google has a list of viable products of which DoubleClick for Publishers (DFP) is a complex-sounding but effective tool that provides several merits over other ad management software.
But before we get into that, let's take a look at how DoubleClick for Publisher functions.
How does DoubleClick for Publishers function?
DoubleClick for Publishers allows publishers to sell, deliver and manage their ad inventory. After rebranding into Google Ads Manager, it allows the publishers to perform ad management functions in a unified platform. DFP allows publishers to establish better control over their ad inventory and delivery options.
Being an ad server, it serves as an intermediary between a publisher's ad inventory and advertisers who want to purchase such an ad space. Right from selecting the eligible inventories to choosing the highest bid in the auction process, DFP adopts a holistic approach in effectively delivering hassle-free ads.
It has several features like a simple user interface to get started with, granular ad targeting options (ranging from user's device to geographical location), detailed reporting tools, open bidding and a testing environment for first-time users.
DFP or Google Ad Manager is available in two versions. The free version is available and the most appropriate to small businesses while the paid version or Google Ad Manager 360 provides enhanced features.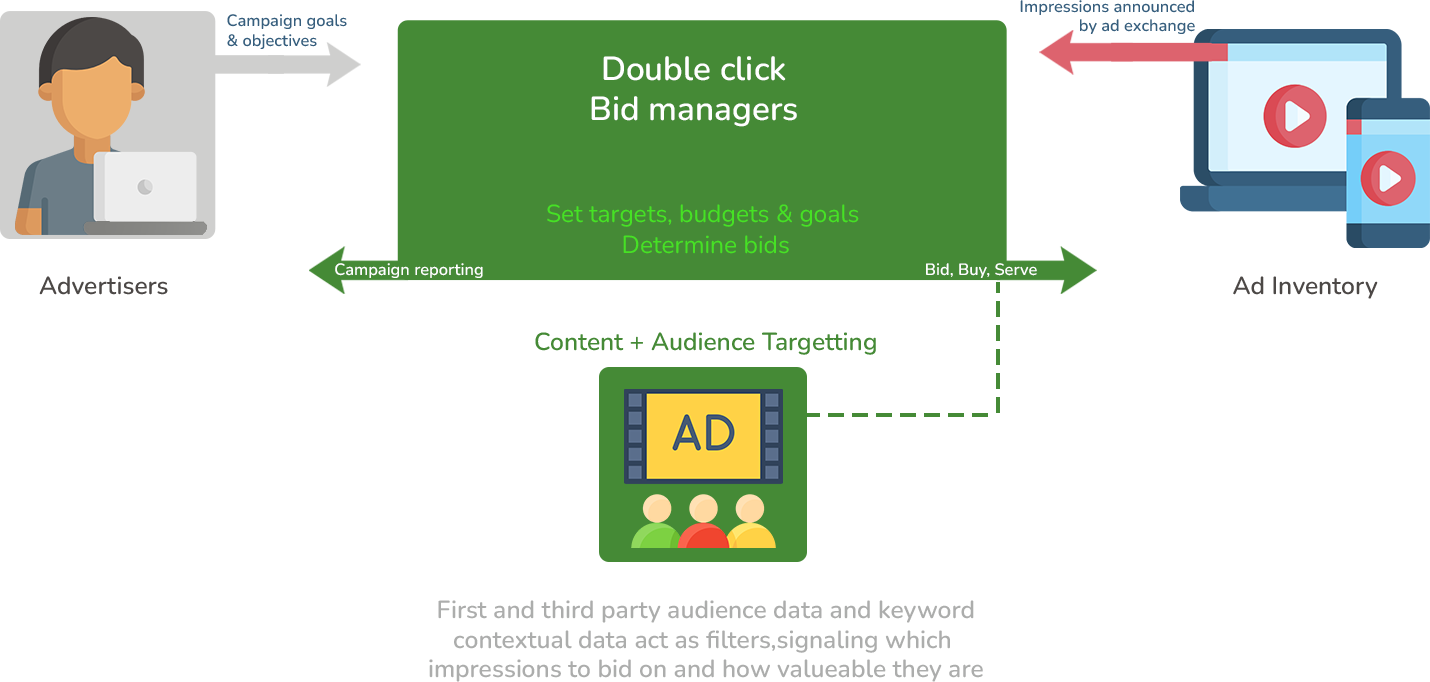 How is it different from Google Ad Sense?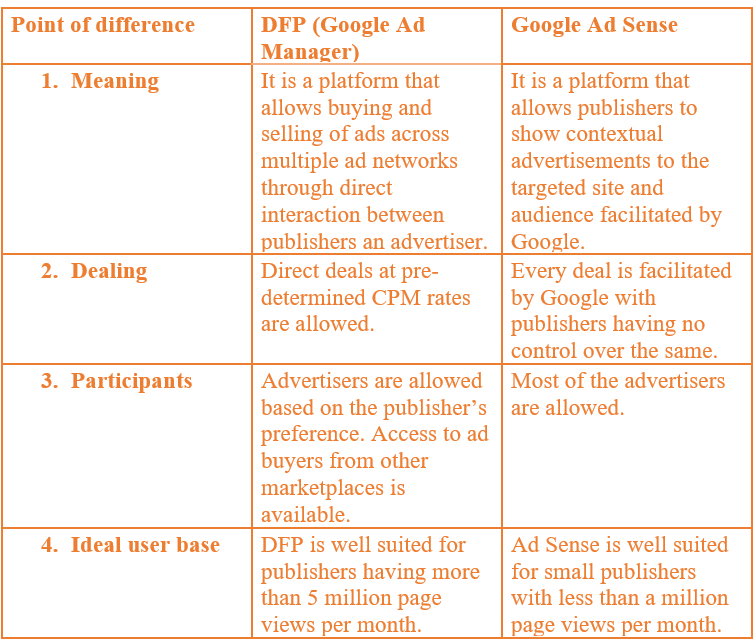 Advantages over other ad servers
There are a few reasons which make DFP the most preferred ad management tool for publishers.
1. Convenient integration with AdX and AdSense
Google's ad network is an ocean and DFP is a small part of it. Thus, to maximize the publisher's revenue, there is an option available to integrate DFP with AdSense and Ad Exchange accounts as the DFP server communicates clearly with each of these.
2. Displays revenue-maximizing ads
While serving line items, DFP allows you to serve ads in a dynamic form. Moreover, price priority combination is also taken into consideration to ensure that ad networks run the best paying ad in their network. DFP also allows publishers to run 'House' line items which effectively captures the unbought impressions thereby leaving no room for any dead impressions as far as CPM rules are concerned.
3. Detection of suspicious and malware-related content
DFP detects and alerts the publishers if the ad creatives are found to be infected with any form of malware content like viruses, trojans, suspicious URLs, fake .gif files. As soon as it is detected, DFP renders the ad creative inactive until the malware issue is resolved and the advertisement is up for a toxic-free display.
With periodical re-scans, the creative may be re-enabled once the malware issue is rectified by providing a notification to the publishers.
4. Elimination of repeatedly creating ad units
Using DFP line items, a publisher can target the text or image or video ad codes programmed into their websites multiple times by implementing the codes once and for all. There is no requirement to create ad units repeatedly. This saves a considerable amount of time and money on the publisher's end.
5. Better ad delivery options
More impressions do not necessarily mean more clicks. To ensure that a unique creative is viewed a limited number of times to generate a faster Click-Through Rate (CTR), DFP allows publishers to set a frequency cap and an impression cap on the ad creatives. Moreover, publishers can also rotate creatives in different forms and adjust their delivery based on a specific period throughout the day.